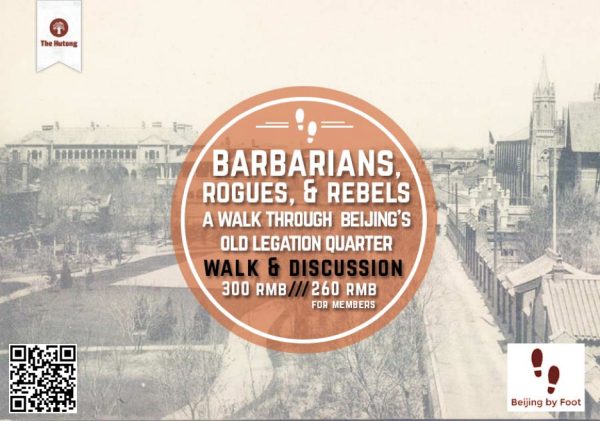 Barbarians, Rogues, and Rebels: The Story of Beijing's Legation Quarter
Date: Friday, March 18th
Time: 10:00 am – 1:00 pm
Cost: 300 RMB (260 RMB for members of The Hutong) includes all admission costs and guide fees

This walk takes us through Beijing's former legation quarter and straight into the heart of Old Peking. Forced upon Beijing's residents by gun and treaty, the legation quarter was a world unto itself where a polyglot community of diplomats, soldiers, spies, criminals, and commercial enterprises flourished surrounded by the decay of the imperial capital.
We'll discuss the history of Beijing's international settlement and meet some of the people who lived there. We'll look at such pivotal events as the Anglo-French invasion of 1860, the Boxer War, and the Japanese Occupation. Along the way, we'll search for what remains of the architectural legacy left by the pre-revolutionary foreign community and dish on some of the dark secrets, strange tales, and unsolved mysteries that still haunt the streets and lanes of the Legation Quarter and its environs.
Duration: About three hours

Spaces for this walk are limited to five participants and registration is required. Details about the walk including meeting points and payment information will be sent in your reservation confirmation.
~~ Follow Us on WeChat ~~