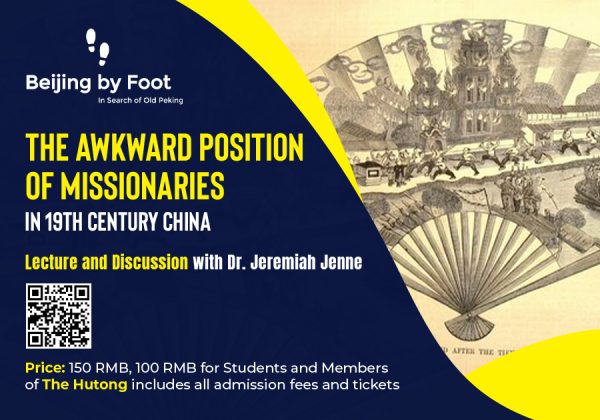 The Awkward Position of Missionaries in Chinese History: A Lecture and Discussion with Dr. Jeremiah Jenne
Talk and Discussion
Date: Saturday, February 18
Time: 3:00 pm – 4:30 pm
Cost: 150 RMB, 100 RMB for members 

From the time of Matteo Ricci and the Jesuit missions of the 16th century, missionaries have played an important role in Chinese history. By the 19th century, the missionary promised both new forms of educational and hygienic modernity while also being seen by the people as a possible threat to the established order in this world and beyond. How did the people of late imperial China perceive missionaries?
In 1870, tales of kidnapping and sorcery swirled around the city of Tianjin. The local magistrate wants to investigate the charges of witchcraft being made against a group of Catholic nuns. The French consul insists the missionaries are protected from prosecution by treaties signed with the Chinese government. In the middle is a hapless Manchu official unable to keep the peace. On June 21, 1870, the city of Tianjin exploded into a day of rage and violence which shocked the world and revealed the perilous position of missionaries in 19th-century China.
Join writer, historian, and storyteller Jeremiah Jenne for this talk and discussion about the role missionaries played in Chinese history.

Jeremiah is a writer and historian based in Beijing since 2002. He earned his Ph.D. from the University of California, Davis, and taught Late Imperial and Modern Chinese History for over 15 years. His essays and articles on China have appeared in The Economist, South China Morning Post, The Journal of Asian Studies, Los Angeles Review of Books, and The World of Chinese. His writings can also be found in China in 2008: A Year of Great Significance, The Insider's Guide to Beijing, and the 2015 collection While We're Here: China Stories from a Writer's Colony. Jeremiah is frequently asked to speak and lead workshops on history, culture, and cultural adaptation for students, embassies, companies, and community groups and is the proprietor of Beijing by Foot, which organizes educational programs and historic walking tours of Beijing's most famous sites and less-traveled byways. Along with David Moser, Jeremiah hosts the podcast Barbarians at the Gate.