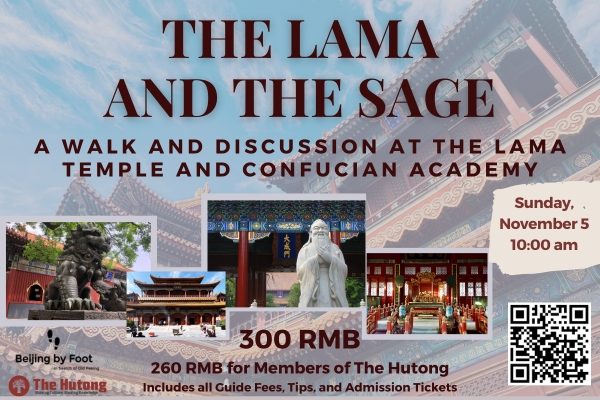 The Lama and the Sage: A Walk and Discussion at the Lama Temple and the Confucian Academy
Date: Sunday, November 5
Time: 10:00 am – 1:00 pm
Cost: 300 RMB, 260 RMB for members of The Hutong includes all guide fees and admission tickets
Yonghegong (Lama Temple) and the Confucian Temple are physical reflections of Buddhism and Confucianism, respectively, but both these sites have also long played a role in state ritual and the ideology of empire.
At the Confucian Temple and the adjoining Imperial Academy, students, officials, and rulers came to venerate the Great Sage and to study for the examinations, which were the gateway to power and elite status in imperial China.
At Yonghegong (The Lama Temple), we will consider how the emperors of the Qing Dynasty appropriated the forms of Tibetan Buddhism by consecrating a holy space in their capital even as their armies were steadily moving westward across the Tibetan Plateau. The historical connection between empire-building and Buddhism in Tibet continues to have profound implications for the relationship between the government and the people of that region.
This walk will offer insight into the history of Confucianism and Tibetan Buddhism while exploring two of Beijing's most famous and celebrated historic sites.
Walk Duration: About three hours

Spaces for this walk are limited, and registration is required. Details about the walk, including meeting points and payment information, will be sent by email as part of your registration confirmation.