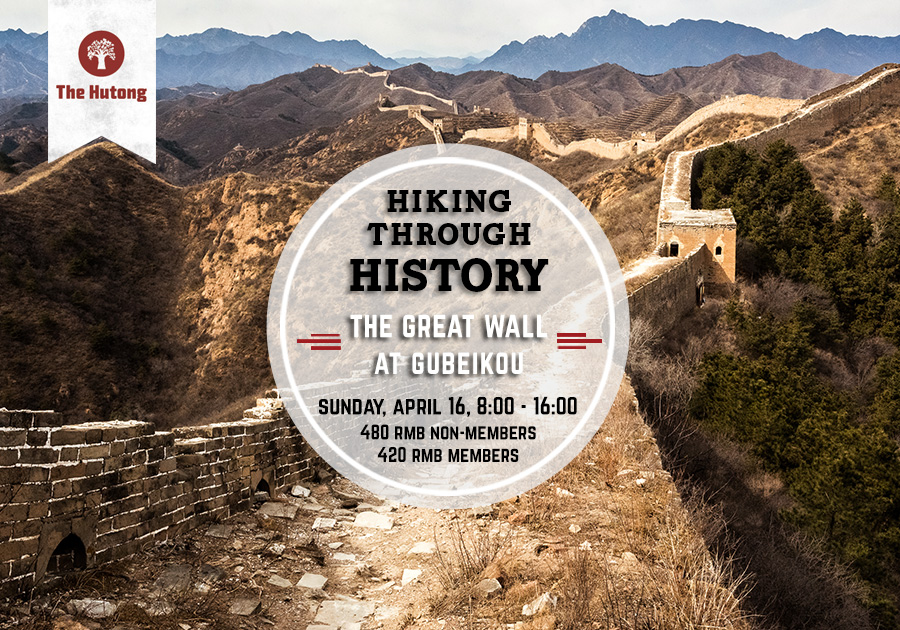 Hiking Through History: The Great Wall at Gubeikou
Date: Sunday, April 16th
Time: 8:00am – 4:00pm (driving time approx. 2 hours each way)
Cost: 480 RMB, 420 RMB for members
Includes bus transportation from the city centre, snacks, water, and entrance fees.
Did it work? Why was it built? And did the Chinese ever try and make the Mongolians pay for the wall?
This interpretative walk and discussion explores the
Gubeikou
section of the Great Wall. While we hike along this majestic and relatively quiet stretch of wall, The Hutong's Historian-in-Residence Jeremiah Jenne will share their insights into the history and ecology of our route. We'll discuss who built the wall and why and bust a few Great Wall myths along the way. We'll also look at the habitat and ecosystem created by the wall and how the environment shaped its construction and maintenance. Along the way, we'll stop for our packed lunches (please bring your own!) and talk about efforts to preserve the Great Wall – and what the Wall means for residents of the local community today.

Spaces for this walk are limited and registration is required. Details about the walk including bus pick-off / drop off points and payment information will be sent by email as part of your registration confirmation. A minimum number of 6 participants is required to run the event; we will notify you at least 48 hours in advance if the hike needs to be cancelled.
Price includes:
Fully guided hike and discussion
Bus transportation to and from the city centre
Entrance fees
Water (please bring your own re-useable water bottle to refill!)
Snacks and drinks on return bus ride
Please note price does NOT include meals – all participants should bring their own packed lunch.
Level of difficulty:
This is a gentle 3 – 4 hour hike, although please note several sections are steep and rough under foot.
We cover a maximum distance of 8 km (sometimes shorter), although the time estimate includes stops for sharing and discussion.
What to bring:
Water (we recommend a re-useable bottle which you can fill on bus)
Packed lunch – please note we do not provide meals
Small day bag
Comfortable hiking or walking shoes
Sun hat or baseball cap
Waterproof jacket
Sunscreen
Camera
Seasonally appropriate clothing
About Jeremiah
Jeremiah Jenne is a writer, educator and historian based in Beijing since 2002. He has taught Chinese history and philosophy for nearly 10 years and written extensively on China for a number of publications including The Economist, The Atlantic Monthly, Journal of Asian Studies, Asia Society, Los Angeles Review of Books, The Beijinger, and the World of Chinese. His work can be found in the anthologies China in 2008: A Year of Great Significance, The Insider's Guide to Beijing, and the 2015 collection While We're Here: China Stories from a Writer's Colony. He has been a recurring guest on the public affairs podcast Sinica and is frequently asked to speak on Chinese culture and history to company and school groups.  Jeremiah also maintains the popular history and culture website granitestudio.org.