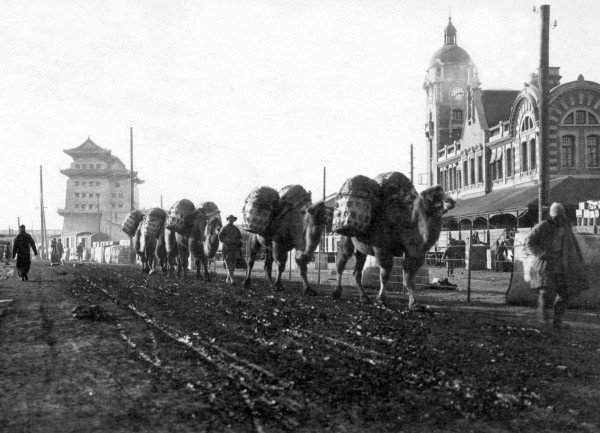 Did you know that the Tiananmen Gate was completely torn down in 1969? That Qianmen Gate was designed by a German architect? Or that Beijing's old train station has mysteriously changed its location southwards? "Transformation Beijing" is the story of three of Beijing's most iconic buildings. Tiananmen – the old gate where laws used to be declared to the people – the old Beijing train station – built to give foreigners a chance to escape Chinese retaliation – and Qianmen – the first entrance to the inner city.
All of these buildings have long lost their original purpose, but they have attained new meaning in the "New China", to the extent that it would be nearly impossible to imagine the capital's centre without them.
Told through a unique collection of black and white photos, "Transformation- Beijing" explains how the significance of the Tiananmen Gate was changed the minute Mao Zedong set his foot on it, how the Qianmen Gate became a symbol of Yuan Shikai's vision of a modern Beijing and how a colonial style train station became a symbol  to the Communist Party.
Come to the Hutong for an afternoon of fascinating tales on Beijing's Transformation …
Place: The Hutong
Date: Sunday, December 15th
Time: 3-5 pm
Cost: RMB 100 (50 RMB for members), includes a soft drink or local beer and local snacks.
Beijing Postcards is a company that is dedicated to modern Chinese history, with an emphasis on Beijing. It can be difficult to understand the complex nature of Chinese society today. To help, Beijing Postcards offers a large variety of talks presenting interesting subjects on Beijing and China's history and culture in an easily accessible way, also offering tailor-made talks for corporate events, clubs, private gatherings, and more. Beijing Postcards owns a large collection of old photographs from China which has been collected from all over the world. These are actively used in their presentations. The name, Beijing Postcards, symbolises the passing on of Chinese history and culture on a level where everybody can understand and appreciate it.
-->